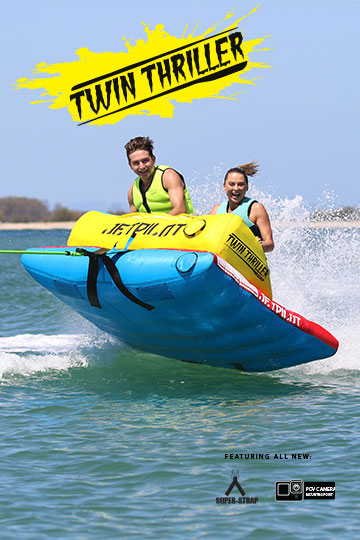 Jetpilot Twin Thriller 2 Towable
---
It was a hot summer day and John and his best friend, Jake, were eager to try out their new Jetpilot Twin Thriller 2 Towable. They had heard great things about its multi-directional towing capability and radical tilt hull, which promised to provide extreme thrills on the water.

As they inflated the towable, they were impressed by its heavy-duty PVC construction, which promised to withstand even the toughest conditions. The towable was designed for up to two riders, so they could enjoy the ride together. The comfortable back rest and double webbing foam handles with padded knuckle guards provided a comfortable and secure grip.

Finally, the towable was ready, and they hit the water. As soon as they were pulled behind the boat, they could feel the rush of excitement as the radical tilt hull provided extreme thrills. They were able to tow in multiple directions, making every ride different and exciting.

The heavy-duty full nylon cover with zipper and heavy gauge PVC bladder kept them protected from the elements, while the self-bailing drain vent and quick connect tow hook ensured a smooth and safe ride. The POV camera mounting point allowed them to capture all the action, and the padded valve cover and puncture repair kit gave them peace of mind.

They had an unforgettable day on the water, thanks to their Jetpilot Twin Thriller 2 Towable, you can too, order yours today!

 Product Description.

SIZE: 67.5" (171.45CM) x 61" (154.94CM) x 15" (38.1CM) (INFLATED)
Heavy Duty PVC
Designed for up to two riders
Multi directional towing capability with radical tilt hull for extreme thrills
Comfortable back rest
Heavy duty full nylon cover with zipper
Heavy gauge PVC bladder
Double webbing foam handles with padded knuckle guards
Self-bailing drain vent
Quick connect tow hook
POV camera mounting point
Padded valve cover
Puncture repair kit

Recommended PSI (Pound per Square Inch) rating 0.8 - 1.0. *Note, The Larger Towable The Lower The PSI. 
This product has no reviews yet.